What? You need three easy ways to eat more fruits & veggies? Then I've got you covered. The other night there was a post on a FB food groups I follow where a participant was wondering how to get her family to eat more fruits & veggies. As in successfully add more fruits/vegetables into the diet of her young child.
Many people were giving suggestions like "smother them with cheese", but for someone like me (food allergy aside) this just isn't the best solution. Now you could easily purchase a copy of Jessica Seinfeld's book "Deceptively Delicious" and learn how to make veggie purees to sneak into dishes that normally don't have veggies. But then again, that's not my style these days either. So I went online and came up with these ideas… Enjoy, and don't forget you can find more recipes & information on the sloCooking archive site.
THREE EASY WAYS TO EAT MORE FRUITS & VEGGIES
Sneak #1 – Buy pre-packaged
Hurrah for the cheaters way to save time & eat healthier.
Sneak #2 – Prepare ahead of time
Yes – if you have time totally do this! Easiest way for this sneak is to spend a hour or so on Saturday prepping snacks for the next week.
Sneak #3 – Place a fruit bowl on the counter or in the middle of the table
We always have fresh fruit on the counter. This makes the healthy foods easy to reach, always fresh & yummy to snack on.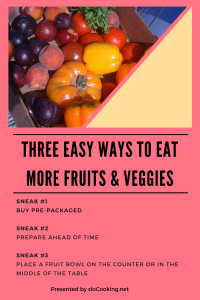 I know these all sound really easy don't they. You can also play around with what some folks consider "exotic" vegetables – however some of the items on the list I just found make me laugh – read on, you'll see why!
Asparagus
Bok Choy
Black Radish
Beansprouts
Chilis
Daikon
Kohlrabi
Yams
Pak choi
Plantain
Purple Cauliflower
Okra (yuck)
Shiitake mushroom
Fennel
Zucchini
Endive
Leeks
Parsnips