Since we've hit May, I'm attempting to do a full Mexican theme with the food this month. Here's a recipe for slow cooker pork chile verde.
So far so good I say. And since my family loves eating this way it's a win win for me.
While this might not be the quickest recipe, it sure is tasty. I'd forgotten how time intensive this recipe seemed to me. Maybe I'm just getting lazy in my old age! 😉  Now if you want to cut down time, you certainly could omit the long part of the procedure where you're browning the pork before putting it in the slow cooker, but that will however take away some of the flavor. However, feel free dear reader to cut that step out if you're looking to get this in the slow cooker faster than I did!
Happy Cooking!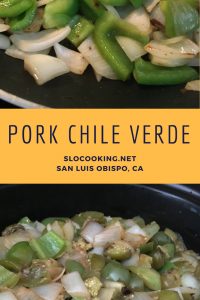 Slow Cooker Pork Chile Verde
4 lbs boneless pork butt or shoulder, trimmed of fat & cut into 2" cubes
2 tsp kosher salt
1 tsp fresh ground black pepper
Flour for dredging
¼ cup vegetable oil
3 yellow onions, chopped
2 green bell pepper, cut into 1" cubes
1 Pasilla chili, veins & seeds removed, cut into 1" cubes
3 garlic cloves, chopped
1 ½ lbs tomatillos, roasted, peeled & chopped
2 tsp ground cumin
1 tbsp Mexican oregano
2 tbsp coriander seeds
2 bay leaves
½ bunch fresh cilantro leaves, chopped
2 cups chicken stock
Season pork with salt & pepper
Lightly flour.
Heat oil in heavy bottom skillet over medium heat
Brown pork chunks in small batches until brown on all sides
Remove from oil, place in slow cooker
Discard any fat in pan, place in onion, bell peppers and sweat over medium heat, stirring occasionally until limp, approx. 5 minutes
Add in pasilla chili and cook an additional 3-4 minutes
Add garlic, cook 1-2 minutes
Add sautéed vegetables, tomatillos, dried herbs, & cilantro to slow cooker
Cover with chicken stock
Add lid, cook 2-3 hours on high
It's ready when the pork falls apart easily with a fork
For a family of 3 like mine, this makes enough to eat half and freeze half for later

Slow Cooker Pork Chile Verde
Author:
Heather Thomas, sloCooking
Ingredients
Pork Chile Verde
4 lbs boneless pork butt or shoulder, trimmed of fat & cut into 2" cubes
2 tsp kosher salt
1 tsp fresh ground black pepper
Flour for dredging
¼ cup vegetable oil
3 yellow onions, chopped
2 green bell pepper, cut into 1" cubes
1 Pasilla chili, veins & seeds removed, cut into 1" cubes
3 garlic cloves, chopped
1 ½ lbs tomatillos, roasted, peeled & chopped
1 tbsp Mexican oregano
2 tsp ground cumin
2 tbsp coriander seeds
2 bay leaves
½ bunch fresh cilantro leaves, chopped
2 cups chicken stock
Instructions
Season pork with salt & pepper
Lightly flour.
Heat oil in heavy bottom skillet over medium heat
Brown pork chunks in small batches until brown on all sides
Remove from oil, place in slow cooker
Discard any fat in pan, place in onion, bell peppers and sweat over medium heat, stirring occasionally until limp, approx. 5 minutes
Add in pasilla chili and cook an additional 3-4 minutes
Add garlic, cook 1-2 minutes
Add sautéed vegetables, tomatillos, dried herbs, & cilantro to slow cooker
Cover with chicken stock
Add lid, cook 2-3 hours on high
It's ready when the pork falls apart easily with a fork
For a family of 3 like mine, this makes enough to eat half and freeze half for later