Ole! This recipe for watermelon agua fresca is perfect for hot days. I hope you enjoy how simple this is to make.
Did you know my cookbook launched a few weeks ago? You can purchase it through my shop. If you like what you're reading, be sure to check out my sloCooking archive site.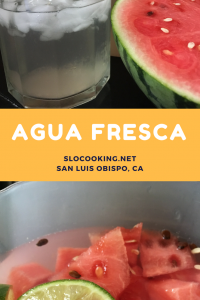 Watermelon Agua Fresca
5 cups cold water
1 cup mint simple syrup (see recipe below)
1 ½ cups cubed watermelon (use seedless, or remove seeds)
Juice of 1 lime
1 lime sliced
Mix everything together in a large container.
Chill in refrigerator until ready to use.
If storing overnight, only leave sliced limes in for 2 hours.
Lime becomes too potent if left in for extended periods of time.
Mint Simple Syrup
1 cup fresh mint
1 cup sugar
1 cup water
Combine all ingredients in small sauce pan
Bring to boil
Stir until sugar has dissolved (about 1 minute)
Remove from heat
Let sit for 30 minutes
Strain mixture into jar, remove all mint leaves
Store in refrigerator until ready to use
Watermelon Agua Fresca
Author:
Heather Thomas, sloCooking
Ingredients
5 cups cold water
1 cup mint simple syrup (see recipe below)
1 ½ cups cubed watermelon (use seedless, or remove seeds)
Juice of 1 lime
1 lime sliced
Instructions
Mix everything together in a large container.
Chill in refrigerator until ready to use.
If storing overnight, only leave sliced limes in for 2 hours.
Lime becomes too potent if left in for extended periods of time