Back to School Essentials of the Sack Lunch – Gone are the days of the metal box covered with super heroes. In it's place stands a modern, flashy model sporting insulation and a multitude of packaging options. This post contains external links to products found online – I am not receiving compensation for these links.
The most important modernization for me is the creation of insulated lunch carriers.
Who remembers how hot the old metal boxes used to get? My mother flat our refused to send anything more perishable than a sliced apple in my school lunches. Heaven forbid I were to get sick from warm mayo on a sandwich. Once I hit middle school, folks got crafts and would freeze a juice packet (like Capri sun), put the frozen packet wrapped in paper towels and foil (to curtain the inevitable melt muck) and use those to keep the bagged lunches coolish. Nowadays, the insulated lunch boxes/bags can be kept cool until lunchtime with re-usable cold packs prefer using the hard side plastic ones as there is no worry about it puncturing and contaminating kiddo's lunch.
Here are some examples of re-usable cold packs.
Fit & Fresh Reusable Cold Packs
My second favorite update to the modern sack lunch is the creation of re-usable food containers.
The ones we have use a gasket in the lid to prevent leaks. Not only are these great for wet food items, these rugged plastic ones prevent food items from getting crushed. There is nothing sadder for me than to have my sandwich smashed by an apple because no matter how carefully you pack it, that apple is just naturally gravitated to the sandwich.
Here are some examples of re-usable food containers.
Leak Proof Stainless Containers
Third – make sure you include a quality refillable water bottle.
A few years ago when the public learned some of the big name water bottle companies used toxic plastics in their bottles my family shifted over to stainless steel water bottles. You want to make sure you buy one that advertises it's made with "food grade stainless steel". Not all stainless steel water bottles come with this, and some made in other countries are known to be made with other metals added to the stainless to help keep costs down. I don't know about you, but I don't want to worry about my child consuming heavy metals that area leaching out of a water bottle I purchased based on a cheap price.
The one's I get are by a company called Klean Kanteen and they're made to last. The photo below is one we purchased for the mini when she was in 1st grade. Yes, the paint has chipped, but the beauty of this brand is if they get dented or misshaped due to falls/throws/whatnot you can hit it with a hammer to flatten the bottom back out. I'm speaking from experience here. I have hammered out the bottom of this water bottle numerous times!
Lastly – get good labels to ID your kid's lunch box parts.
Many years ago I read a write-up in a magazine on Name Bubble labels. I figured the price was good I might as well give them a shot and purchased a set. This first set was purchased when the kiddo was going into kindergarten – she is now getting ready to go into the 6th grade. These labels are totally worth the money. They stay on in the dishwasher, they don't fade, and they don't loose their stick. I run all the kiddo's lunch containers & water bottles through the dishwasher, I don't do anything fancy with them – who has the time? Top rack, hit start and they get washed in the dishwasher. They even make clothing labels that hold up when washed, but that might be for another post!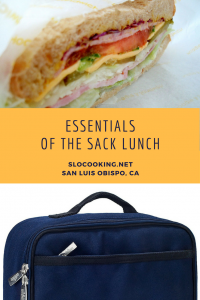 I hope this has helped you begin to plan for the upcoming school year. Keep your eyes open for sales as I know it's only the start of August, but stores around here are already in full back to school sale mode.
my cookbook launched on Amazon in the Kindle Store – You can purchase it through my shop.
Please follow and like us: