Another friend asked me for recommendations for side dishes for turkey day and other upcoming holidays. This not makes three friends asking for cooking resources – Gotta LOVE IT. So I put together my list of Nine Perfect Side Dishes for Thanksgiving.
I hope you enjoy these. Feel free to message me if you need more recommendations. I love to hear from you!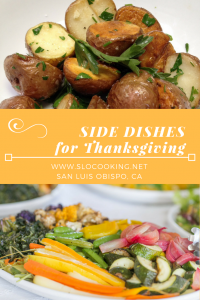 SIDE DISHES
SNACKS
Would you like a FREE COPY of my weekly menu planner? Be sure to sign up for my newsletter HERE to get a copy.
Did you know I have a posted list of recommended cookbooks on my website. Click HERE to visit that page.
You can also visit my KITCHEN GADGETS page for recommendations of my must have list of kitchen equipment.
There's still time to check out my archive site.
Copyright 2017 by Heather Thomas, sloCooking.net. All rights reserved.