Slice and Bake Cookies
Did you know you can take your favorite chocolate chip cookie or shortbread recipe and turn it into slice and bake cookies? I got a wild hair the other day and decided to try my hand at home-made slice and bake cookies. To do this I took the basic Toll House cookie recipe and gave it my dairy-free, gluten-free tweaks then mixed it up.
I divided the dough in half, and placed one half on a good size sheet of wax paper. Roll the dough into a tube and twist the ends shut, making sure the roll is nice and tight. I then wrapped the roll in cling wrap and placed the all important blue tape label. Repeat these steps with the other half of the dough. This makes two logs of cookie dough.
Place the logs in the freezer until you are ready to bake. Voila! Homemade slice and bake cookies. I do not know why I did not think of doing this sooner. The best part about this is, you can be having a perfectly rotten day, and come home to bake yourself some delicious homemade cookies in no time flat. What a way to turn the day around.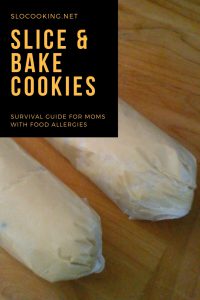 Would you like a FREE COPY of my weekly menu planner? Be sure to sign up for my newsletter HERE to get a copy.
Did you know I have a posted list of recommended cookbooks on my website? Click HERE to visit that page.
You can visit my KITCHEN GADGETS page for recommendations of my must have list of kitchen equipment too.
Have you checked out my Instagram feed yet?