What is sloCooking?
sloCooking is a Survival Guide for Moms with Food Allergies.  I'm allergic to tree nuts and intolerant to dairy & gluten. Join me as I work through re-creating my favorite recipes. The name comes from my home town of San Luis Obispo (SLO). Check out my latest recipes.
Who is sloCooking?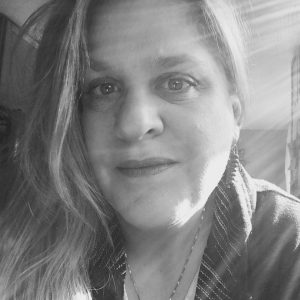 I'm Heather Thomas, author & creative mastermind behind sloCooking. What started as a project to keep this modern mom busy while a toddler (now a teenager) napped has turned into a mission.  For eleven years my husband and I owned & operated Two Cooks Catering here in San Luis Obispo. The hubs was our executive chef and I ran the business – planned menus, orchestrated events and worked hand-in-hard with our clients. We specialized in farm-to-table cuisine. We sourced produce from local farmer's markets, meats from around the county and fish caught along the Central Coast. In December 2016 we closed our business for my husband to go back to being a baker, and I'm back writing among other things.
In 2018 I received a certificate in General Nutrition from The Health Sciences Academy and in 2020 I received a certificate in Children's Nutrition & Cooking from Stanford.
Just a little  fun.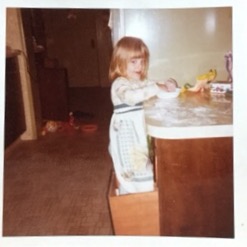 Can You Cook?
Yes, I certainly can. I grew up spending time in the kitchen. See… photographic evidence from my mom. 1974, I was 3!
If You're Making Dinner for Just Yourself – What Do You Make?
If I'm cooking for just myself I really can go for just a baked potato.
You're Making Dinner for Someone Special – What Do You Make?
When I was first living on my own and wanted to impress you with my cooking skills I'd make my "Parmesan-yogurt chicken." I made it so much when my husband and I were dating that I couldn't make it for MANY YEARS after we were married!
If You Have to Pick, What's the Best Dish You Cook?
Hard to pick just one, but lately I've got a good feel for making Chinese, Japanese & Thai foods.
Do You Butter Corn on the Cob by Rolling? Or by Wrapping It In a Piece of Buttered Bread?
Rolling of course – the other way is weird.
Do You Like Your Baked Potato Plain or the Works?
With the works and don't forget the sour cream & bacon bits (of course these days it's dairy free sour cream for me)
Fries or Tater Tots?
Fries of course, but specifically from In & Out
Ketchup or Mustard?
Ketchup
Sweet or Spicy?
Sweet
Pretzels or Beer Nuts?
Pretzels
What is Your Favorite Flavor of Milkshake?
Used to be vanilla – but I rarely make them now that I'm allergic to milk
Do You Like Your Ice Cream in a Cone or a Bowl?
Cone, and I really like the vanilla soy frozen yogurt from Trader Joe's
Coke or Pepsi?
Coke because it tastes like cinnamon
Medical Disclaimer
The information provided by this blog is not intended to replace medical advice by a board certified allergist. I am not a licensed medical professional, just a person with my own food concerns. Always consult your doctor with any questions regarding diet, medications, food allergy testing, allergic reactions, or other medical issues. Thank you!