Do you have a favorite kitchen tool?
What is it? And why do you like it? My all time favorites – the ones I cannot live without, are blue painters tape & sharpie markers. Really? You've never heard me mention this before? I can see the gears turning. Blue painters tape & sharpie markers? In the kitchen? What??
Well they are absolutely fabulous for labeling foods. You can use them in the the refrigerator, the pantry AND the freezer. Bonus  too because blue painters tape does not fight to be removed when you want to ditch the label to wash your containers.
I've had to toss many storage containers because the exteriors were ruined by plain old masking tape marks. I don't care how hard you scrub or razor blade – you can't get that mess off.
Now, Writing with sharpie?
Well that's self-explanatory sillies – who doesn't love writing with a sharpie?!?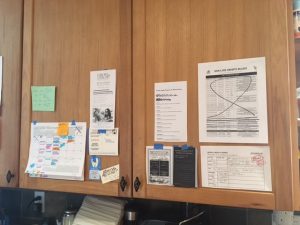 Just so you know, I also use the blue tape to stick my weekly menu planner to the kitchen cabinet. And my monthly calendar. And everything else my family needs to know during the week. Blue tape leaves no residue when it's removed. I put it directly on the front of my cabinets.
See you look at my cabinets – totally taped up, and not just on the front. I use this tape on the inside too, but those pictures are for another post. I think there are only a few cabinet doors in my kitchen that haven't been turned into a storage spot for recipes, telephone numbers, and reference information.
So dear readers, what are your favorite kitchen tools? I'd love to hear what you use. Get me hooked on something – I dare you.
my cookbook launched on Amazon in the Kindle Store, and You can purchase it through my shop. If you like what you're reading, check out my sloCooking archive site.
Please follow and like us: