Nothing makes me happier than to have gluten free pancakes for dinner. However, since I'm also a periodic lazy cook, I'm challenged with finding a mix that is not only dairy free, but now gluten free as well. It's almost enough to make you want to scream. However, now that Whole Foods is owned by Amazon I am happy to report I've been noticing prices have begun to head into a more normal arena for specialty food products. Now that I can find foods that work with my dietary challenges I'm more willing to make the same food for myself that I make for the rest of the family.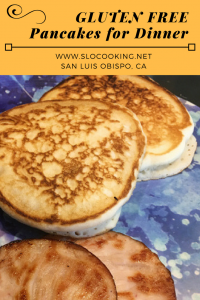 I have discovered that there are many different varieties of gluten/dairy free pancake mixes in the stores these days. So far I've tried a Betty Crocker one that's rice flour based, the flavor is ok but the texture is off, and one by King Arthur Flour that I liked much more.
If I'm feeling energetic I'll make extras like turkey or Canadian bacon, even scrambled eggs and toast to top it off. Otherwise I'll just make the pancakes themselves, and don't forget the real maple syrup. I'm from New England – nothing else is quite the same.
Would you like a FREE COPY of my weekly menu planner? Be sure to sign up for my newsletter HERE to get a copy.
Did you know I have a posted list of recommended KITCHEN GADGETS page. Be sure to check it out for recommendations of my must have list of kitchen equipment.
There's still time to check out my archive site.