I thought I'd post up a quick Trick or Treat Checklist & Safety Tips for Halloween. I know we're a ways out, but these are good things to keep in mind as you plan your fun evening. I hope you and your little goblins have a great time this year!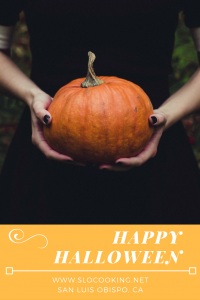 CHECKLIST
Flashlight & extra batteries
Treat bag
Planned route
Return home or meet-up time if parents are splitting up with different sets of kids
House key
Water (if you're planning on a long walk)
Cell phone
Emergency ID info attached somewhere
Costume check
Reflector tape or glow sticks for each child going trick or treating
SAFETY TIPS
Stay away from masks: while these can be fun, do your best to make a costume happen without masks. They can impair vision, and make it difficult for children to talk. If your child just has to wear a mask, try to find one that is a half mask, covering eye area only, and is snug fitting.
Be visible: aim for brightly colored or light colored costumes. If your kid insists on being a dark ninja – attach reflective tape to the back to the costume and make your little ninja carry a glow stick or flashlight so cars and others walking around can easily see them in the dark.
Never go alone: Make sure children always have a grown up with them when they go out trick-or-treating. Pin an emergency information card on the inside of your child's costume should kiddo happen to separate from your group.
Go out during safe times: These days you don't have to wait until it's black out to go trick-or-treating. The best time to go is after an early dinner and right before dusk. It's easier for adults to keep track of little ones, and you can still get the pint sized treaters to bed at a reasonable hour by starting earlier.
Safe walking tips: Make sure you children know basic traffic rules, like stopping & looking both ways before crossing the street.
Knock on doors you know: Have your children only visit homes you know, and if a home has no decorations and the lights are off, do not stop there.
Never go inside a home: Sometimes you will run across a home that says "come in", but remind your little ghosts & goblins to never go inside anyone's home. They can easily collect their candy while standing on the front porch.
Check ALL candy when you get home: Before you let anyone eat candy from trick-or-treating, check every piece for rips, tears, or evidence of tampering. If you see something suspect, just toss it out. Yes, candy is fun – but it's inexpensive and free when you get it trick-or-treating. Safety First.
Would you like a FREE COPY of my weekly menu planner? Be sure to sign up for my newsletter HERE to get copies of both the planner and my printable ebook on Halloween treats. Have you purchased a copy of Quick Bites yet? There are links in my SHOP to purchase the ebook from Amazon or the print-on-demand copy from Blurb. It makes a great gift and is full of recipes you'll want to put in regular rotation.
Save