I am obsessed with fried tofu. I'm so happy I found and put my tweak on a recipe for sautéed marinated tofu. I can't seem to get enough of this. I blame my changing in eating habits on my initial participation in Arbonne's 30 Days to Wellness. My body has been cleansed of all the icky things I used to eat and desire. Now all I want are vegetables and healthier food choices. I never thought I'd get so much use from the tofu press I purchased when I went dairy free.
Sautéed Marinated Tofu
1 lb. firm tofu
¼ cup low sodium soy sauce
2 tbsp lemon juice
¼ cup rice wine vinegar
2 tbsp light brown sugar
1 tbsp minced/grated fresh ginger
2 tsp sesame oil
1 tsp sriracha
2 garlic cloves, thickly sliced
Olive oil for sautéing
Open tofu package, drain off water
Place tofu in tofu press, twist down top and drain for 30 minutes
Pour off water, twist top down more, drain for another 30 minutes
Slice drained tofu into cubes
Place in container
Mix marinade of soy sauce, lemon juice, rice wine vinegar, brown sugar, ginger, sesame oil, sriracha & garlic together
Cover with marinade
Let sit for 30 minutes, stir around
Make sure every piece is covered in marinade
Let sit for 30 more minutes
Remove from marinade and thread onto skewers – 4 pieces/skewer
Heat oil in fry pan
Sautee, until every side is crispy and brown
Serve warm, by itself or with the red rice salad
my cookbook launched on Amazon in the Kindle Store – You can purchase it through my shop. If you like what you're reading, be sure to check out my sloCooking archive site.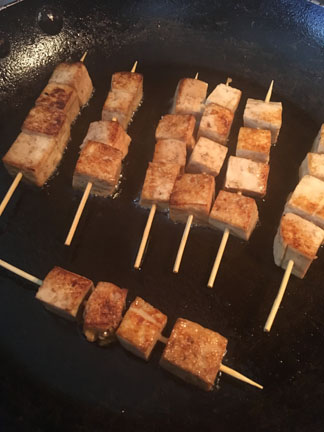 Sautéed Marinated Tofu
Ingredients
1

lb.

firm tofu

¼

cup

low sodium soy sauce

2

tbsp

lemon juice

¼

cup

rice wine vinegar

2

tbsp

light brown sugar

1

tbsp

minced/grated fresh ginger

2

tsp

sesame oil

1

tsp

sriracha

2

garlic cloves

thickly sliced

Olive oil for sautéing
Instructions
Open tofu package, drain off water

Place tofu in tofu press, twist down top and drain for 30 minutes

Pour off water, twist top down more, drain for another 30 minutes

Slice drained tofu into cubes

Place in container

Mix marinade of soy sauce, lemon juice, rice wine vinegar, brown sugar, ginger, sesame oil, sriracha & garlic together

Cover with marinade

Let sit for 30 minutes, stir around

Make sure every piece is covered in marinade

Let sit for 30 more minutes

Remove from marinade and thread onto skewers – 4 pieces/skewer

Heat oil in fry pan

Sautee, until every side is crispy and brown

Serve warm, by itself or with the red rice salad