I'll show you mine – if you show me yours… Oh get your mind out of the gutter – I'm talking about your pantry! Fall is a great time for pantry organization.
I'm always curious what other people's pantries look like. In the dream home of my future not only will I have a FULL walk-in pantry, but I'll also have a butler's pantry for all my platters, bowls and the like. Here's what mine looks like on a regular basis…
A few years ago I decided the big pantry was a lost cause for small jars and containers, so I swapped out one shelf of items that kept getting lost for all the plates & bowls. I then put the small jars & containers of food in the narrower cupboard where I can see all the way to the back and no longer loose things (i.e. purchase them again because I couldn't see that I had them).
My favorite addition to our kitchen is the built in can shelf I had put in a few years ago. Just narrow enough for a can, but open to the world so I can always see what I'm looking for!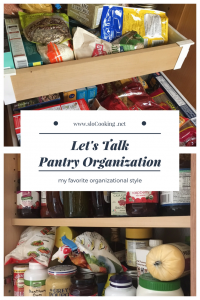 Would you like a FREE COPY of my weekly menu planner? What about a downloadable recipe book of my favorite summer drinks? Be sure to sign up for my newsletter HERE to get copies of both.
Have you purchased a copy of Quick Bites yet? There are links in my SHOP to purchase the ebook from Amazon or the print-on-demand copy from Blurb. It makes a great gift and is full of recipes you'll want to put in regular rotation.