Have you signed up for my newsletter yet? No, what's stopping you? You can click HERE and sign up for it right now. The joy of doing that is you get additional info that general readers don't get access to. Once of which was my original post for travel well appetizers.
With Thanksgiving right around the corner, I know you might be heading out of town to celebrate with friends and family and you'll need foods that travel well and are easy to make.
Below are four of my favorites. I hope you enjoy them and have a lovely holiday season this year.
Mini Quiche: Choose your favorite flavor and make it bite size (or two bite size as we do for work) – think the same size as a mini muffin.
Small Fruit & Cheese Kabobs: There are some amazing red grapes in the stores right now, and I've been crushing hard over Daiya's Vegan Smoked Gouda.
Cantaloupe Wrapped in Prosciutto: Can we say EASY, just slice and wrap, slice and wrap… Need I say more? If you want to dress this up a little drizzle with spiced honey.
Cheese Logs: I use dairy free/vegan cream cheese these days. Take it out of the container and place it on wax paper. Shape into a log and place in the freezer to set. After a few minutes, when it's firm-ish to the touch roll the firmed up vegan cream cheese in fresh herbs rosemary, thyme, chives). Keep refrigerated until just before serving. Plate up with your favorite crackers or sliced vegetables.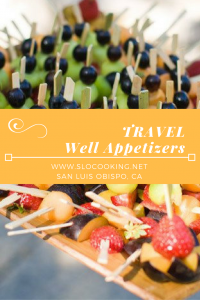 Would you like a FREE COPY of my weekly menu planner? Be sure to sign up for my newsletter HERE to get copies of both.
Did you know I have a posted list of recommended cookbooks on my website. Click HERE to visit that page.
You can also visit my KITCHEN GADGETS page for recommendations of my must have list of kitchen equipment.
There's still time to check out my archive site.
Copyright 2017 by Heather Thomas, sloCooking.net. All rights reserved.