Meet the allergy safe yule log – it is completely dairy, nut and egg free. This is what happens when family members have food allergies and another family member is desperate to cook a Christmas tradition.
Many years ago, before I was diagnosed with food allergies, we cooked to accommodate my nephew's allergies. His mom, my sister, found the most fabulous cookbook – What's to Eat? The Milk-free, Egg-free, Nut-free Food Allergy Cookbook by Linda Marienhoff Coss. Click here to buy this amazing book.
That year when Christmas rolled around my other sister desperately wanted to have a yule log. Out comes the amazing cookbook and a yule log is born.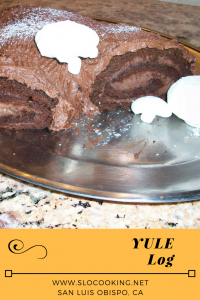 Allergy Safe Yule Log
The cake was made with the Chocolate Layer Cake recipe, the filling was the recipe for Chocolate Tofu Mousse and we made a simple chocolate icing for the top.
Mushrooms were created not with egg whites meringue as they normally would but with Kraft Marshmallows – melted in the microwave at various times and pulled/stretched into various shapes. All in all this was the single most delicious part of the holiday.
If you'd like the recipe, drop me a line and let me know and I can get you a copy – otherwise just buy a copy of the book, I promise you'll enjoy everything in there!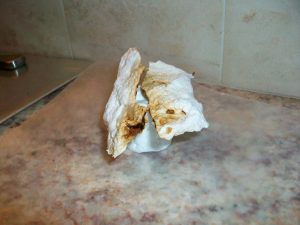 Are you looking for holiday gift ideas? Check out my recommended cookbooks HERE or go to my KITCHEN GADGETS page for must have gadget recommendations.
There's still time to check out my archive site.
Copyright 2017 by Heather Thomas, sloCooking.net. All rights reserved.