I'm on a mission this month  since 1) we're in May, and 2) the weather is warming up – to make you long for the cool breezes, warm weather and tequila drinks found in Mexico.  This recipe for cranberry tequila punch certainly fits the bill. How am I doing so far?
I went to college in southern California. And while we were north of the Mexico border by many hours, that didn't stop us from taking road trips down to Rosarito Beach for a weekend of fun in the sun. Which of course meant plenty of beach time, lots of Coronitas in a metal bucket on ice, and of course tequila to go with dinner.
Did you know my cookbook launched a few weeks ago? You can purchase it through my shop. If you like what you're reading, be sure to check out my sloCooking archive site.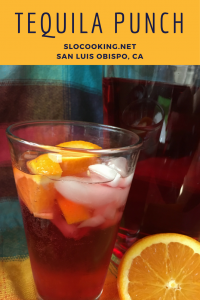 Cranberry Tequila Punch

3 cups chilled apple-cranberry cocktail
1 cup silver tequila
½ cup orange liquor like Grand Marnier (I make my own orange liquor so that's what I normally use)
1 ½ cans orange selzer water
1/8 – ¼ cup agave syrup (to taste)
Juice of one lime
Fresh orange slices for garnish
Mix everything together
Chill until ready to use
Serve over ice with orange slice garnish

Cranberry Tequila Punch
Author:
Heather Thomas, sloCooking
Ingredients
3 cups chilled apple-cranberry cocktail
1 cup silver tequila
½ cup orange liquor like Grand Marnier (I make my own orange liquor so that's what I normally use)
1 ½ cans orange selzer water
⅛ – ¼ cup agave syrup (to taste)
Juice of one lime
Fresh orange slices for garnish
Instructions
Mix everything together
Chill until ready to use
Serve over ice with orange slice garnish