Tips Tuesday – Store butter in an airtight container.
This might seem like a simple idea, but honestly this Tips Tuesday idea is a keeper. Store butter in an airtight container to retain freshness. You'd be surprised how many flavors a block of butter can pick up from the fridge if you just keep it wrapped in the paper it came in and shoved into the box.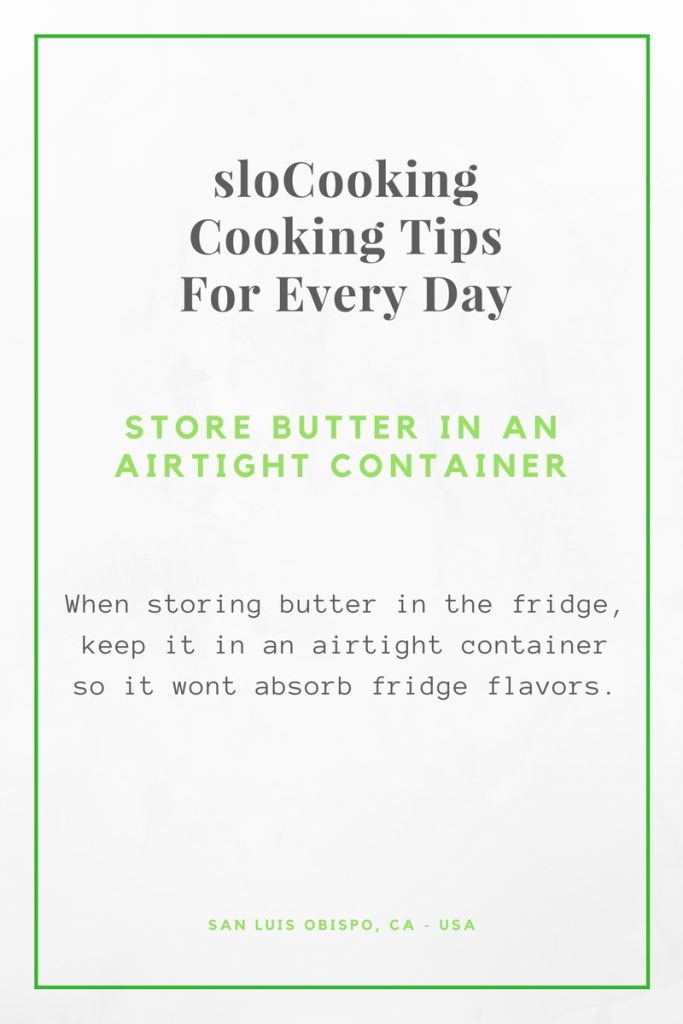 About
At sloCooking my goal is to assist my readers with recipes, information and tips to help you have an easier time in the kitchen, especially if you or someone in your family has food allergies or intolerances. I post recipes twice a week – periodically I also post my TIPS TUESDAY column with handy tips and useful information.
Newsletter
I also have twice a month newsletter where I send out recipes that do not get published on the website. If you haven't signed up for it yet, you should to make sure you don't miss out on anything.
Share
I hope you find my site useful, and that you enjoy cooking the recipes I share. I have been blogging for about 10 years and it brings me joy to share my passion with my readers. Don't forget you can always comment or message me directly if you have questions, comments, or requests for things you'd like me to cover on sloCooking. Happy cooking.
Would you like a FREE COPY of my weekly menu planner? Be sure to sign up for my newsletter HERE to get a copy.
Did you know I have a posted list of recommended cookbooks on my website? Click HERE to visit that page.
You can visit my KITCHEN GADGETS page for recommendations of my must have list of kitchen equipment too.
Have you checked out my Instagram feed yet?