It's that time of year… Cookie Exchange time.  As a special treat I thought I'd pass along instructions on how to host a cookie exchange. While I'm no longer hosting a physical cookie exchange, I figure it's just too challenging with my food allergy concerns, I do host my online cookie exchange.
This year marks the 8th  Annual sloCooking Virtual Cookie Exchange. Stay tune in December – I'll be posting many good recipes from fellow bloggers!
Read below for complete details on how to hold you very own cookie exchange party. Don't be scared – they're really a lot of fun.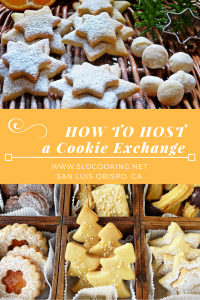 HOW TO HOST A COOKIE EXCHANGE
Invite guests a few weeks in advance, you still have time to do this for December 2017. I enjoy using the cookie theme templates on EVITE when I send out my invitations.
Seven or 8 people are ideal, though I've had up to 12 guests before and it worked out fine.
Have each guest bring you a copy of her recipe so you can pass them out later or have them email you the recipe in advance.
Each guest also needs to bring an empty container for taking cookies home.
Decide who will make what, coordinate this ahead of time. Try for NO duplicates. I normally keep a running list on the evite of the cookies that have been spoken for so guests don't have to keep asking me if they can bring xxx type.
Guest should make a dozen cookies for each guest that is attending. But a half dozen per person would also work. Let guests know the rules, like scratch baked only, no store bought cookies, etc.
Have blank cards & a marker available when guests arrive – for making a quick ID tag for the cookie types. Such as "Chocolate Spice Cookie by Laura"
Be ready with extra paper plates & cling wrap, or gallon size ziptop bags for guests to take cookies home if someone forgets to bring an extra container.
Have some simple appetizers ready for the party – think savory since guests will more than likely nibble on the cookies they package to take home.
Make a mulled wine or sangria and hot coffee or cider if it's chilly.
Clear a few tables or kitchen counter tops for cookie platters. When it's time to swap have each guest walk around the platters collecting the number appropriate for taking home.
After the party – if you don't have them yet, collect the recipes from each guest and compile them into one document to email to all guests that attended.
Happy baking & enjoy your party!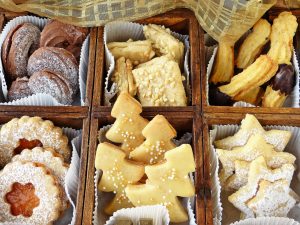 Be sure to tune in this December for my 8th Annual Virtual Cookie Swap.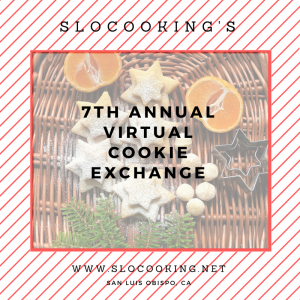 Would you like a FREE COPY of my weekly menu planner? Be sure to sign up for my newsletter HERE to get a copy.
Did you know I have a posted list of recommended cookbooks on my website. Click HERE to visit that page.
You can also visit my KITCHEN GADGETS page for recommendations of my must have list of kitchen equipment.
There's still time to check out my archive site.