Halloween Foods
With Halloween right around the corner I thought I'd share with you some of my favorite kid approved Halloween food recipes.
This savory potato snack is a great Halloween treat. I love all things potato – so making something with fingerling potatoes was a hands down winner with me.

I just couldn't resist making these edible finger nibblers. This recipe is one you'll want to make for Halloween, you could even pack them in school lunches!
These are a fun drink for your next Halloween gathering. Or even if you just want to freak out your dinner guests next time you have company over for dinner.
These edible skeleton bones for Halloween are a crowd pleaser.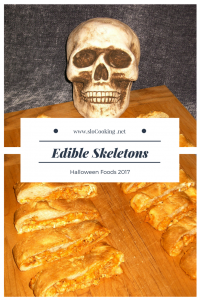 These easy to make chocolate spiders are a fun treat to make this Halloween. I went ahead and gave them my signature dairy-free tweak.
Who doesn't love crispy treats? Not anyone reading my blog! And certainly not anyone at my house. Here's a recipe for creepy crispies that are fun and easy to make.
Not only is this easy to make, but I've made it allergy safe so the whole family can enjoy it. Ok… so I can enjoy it!
These edible monster eyes are a fun snack to make for after school or for the kiddo's next Halloween party.
I hope you and your family enjoy these Halloween food recipes this year. My family sure likes these.
Would you like a FREE COPY of my weekly menu planner? Be sure to sign up for my newsletter HERE to get a copy.
Did you know I have a posted list of recommended cookbooks on my website? Click HERE to visit that page.
You can visit my KITCHEN GADGETS page for recommendations of my must have list of kitchen equipment too.
Have you checked out my Instagram feed yet? Or my travel article on my home town?