Appetizer Round-Up
I've got you covered this holiday season with my Thanksgiving appetizer round-up. These are 8 of my favorite recipes and I enjoy entertaining with them. Not only can you make these for entertaining at your own home, but some of these travel well and are great if you are going somewhere. I don't know about you but I adore holiday time and entertaining, or going to other's homes for holiday feasts. For the past few years we've decided on having a big "Friendsgiving" that bounces back and forth between our house and a friend's. The first year we decided to do this at our house I was pleasantly surprised that I was able to fit 12 guests in our dining/living room. Who knew our little house could hold so many people!
I hope you enjoy these recipes. I'm always on the hunt for appetizers that "travel well" and think I've hit the mark with this round-up. Please let me know if you have any questions, or are looking for additional recipes for your next holiday gathering. And yes, I am aware of the heavy Italian emphasis on this list. What can I say, I'm an Italian girl at heart! Happy cooking.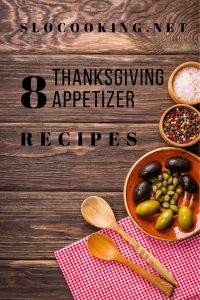 Appetizer Round-Up: 8 Crowd Pleasers for Thanksgiving
Would you like a FREE COPY of my weekly menu planner? Be sure to sign up for my newsletter HERE to get a copy.
Did you know I have a posted list of recommended cookbooks on my website? Click HERE to visit that page.
You can visit my KITCHEN GADGETS page for recommendations of my must have list of kitchen equipment too.
Are you following me on FaceBook? Or see my travel article on my home town?